Deck In A Box | Econodek™
Econodek Waterproof Vinyl Decking
Econodek DIY waterproof vinyl decking is a complete deck solution for your next renovation or build. If you are searching for a simple and easy way to cover and waterproof your deck Econodek is the answer. We quote and ship you a complete deck in a box installation package with everything you will need to do your installation. With step-by-step installation instructions and toll-free customer support, Econodek has you covered every step of the way.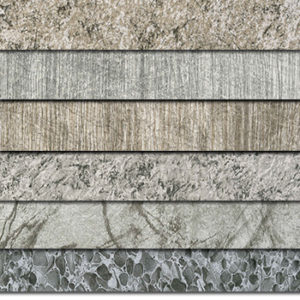 Quick Quote
A fast and free Econodek quick quote is easy and just a click away. Our online deck calculator gives you a complete cost of materials for your project. It also gives you a line-item breakdown and price point of everything that comes with your deck in a box. If you would like to discuss your project or receive a personal deck quote our Econodek team is here for you and ready to help. You can reach out to us via our contact form about using Econodek as your walkable and waterproofing surface.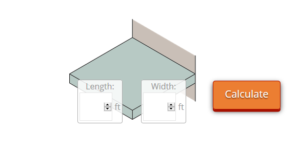 What is Econodek?
Econodek is a roofing grade PVC sheet vinyl membrane that comes 6′ wide and we custom cut the length for each order. It comes in 6 great color patterns and has a textured surface that is barefoot and pet friendly. No more worrying about splinters and constant maintenance when you have Econodek decking installed on your outdoor space. Econodek is easy to clean and maintain and never needs re-coating. So stop maintaining your deck and start enjoying it today with Econodek!
Econodek is Tested
The quality of our vinyl decking is very essential to us so we have Econodek regularly tested by Intertek. Because they are an independent international testing agency, the Intertek decking tests ensure our quality guarantee is consistent for all of our customers. For more information regarding our product quality and testing please visit our Testing and Approval page. For more information regarding our 10-year waterproofing warranty please visit our warranty page.
Color Samples
When choosing the right color pattern for your Econodek deck in a box we want to make sure you are 100% satisfied. Therefore we will send you color samples right to your door at no charge. Visit our contact page or give us a call toll-free at 1-877-860-9333 to get your hands on our vinyl decking designs.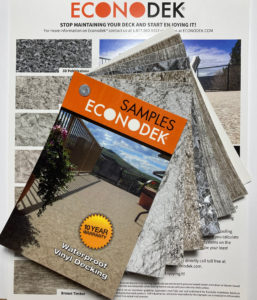 Customer Support
With over 30 years of experience in the vinyl decking industry, our team of Econodek professionals is here to help. From the initial stage of discussing your project to completing your deck in a box order, our staff will provide 1 on 1 service that is unparalleled for an e-Commerce business. Econodek gives you a personal touch all along the way and our decking will protect your outdoor space for many years to come. So what are you waiting for, contact us today, and let's talk about using Econodek waterproof vinyl decking on your outdoor space. We can't wait to hear from you! Call toll-free at 1-877-860-9333 
Stop Maintaining Your Deck And Start Enjoying It Today With Econodek Vinyl Decking!