Under Deck Waterproofing | Econodek™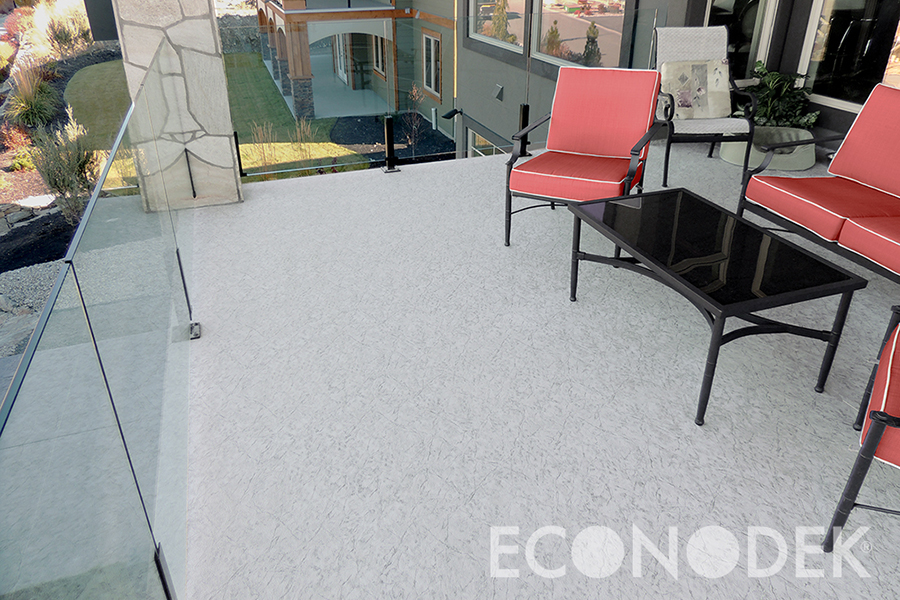 Under Deck Waterproofing – Econodek Vinyl Decking
If you are looking for under deck waterproofing ideas, look no further. Econodek waterproof vinyl decking has you covered. Our vinyl decking is the perfect solution to waterproof your outdoor space. Econodek is not only your walkable and waterproofing surface but it creates dry usable space underneath your deck, porch, or balcony. Under decking and water capturing systems are becoming a thing of the past. Waterproof your existing surface from the top and get it right the first time with Econodek!
Create A Dry Space
Many homeowners have a 2nd-floor deck with a great opportunity to use the space below it when it rains or snows. Econodek vinyl decking is used across North America as an under deck waterproofing solution in these situations. Our vinyl decking gets fully adhered to plywood or concrete surface optimizing your space underneath. Depending on the layout of your house you can use this extra space for storage or for an additional sitting area. Econodek will not only look great but it will give you your space back to use all year round.
Protect Your Deck
Econodek offers a long term waterproofing solution for your deck. Our vinyl decking is the main component of a complete waterproofing system. Econodek is a roofing grade PVC sheet vinyl membrane that is manufactured to not only look great but to last. With six color patterns to choose from Econodek has a design to suit any home's exterior. Our decking has been installed all over North America with almost 4 million square feet sold to date. Econodek performs in all weather conditions and is continually tested to meet our high standards.
Complete Deck Kit
Our Econodek deck system is sold as a complete DIY deck kit. Sold primarily to homeowners and contractors Econodek comes to you with everything you will need to do your install. Our website econodek.com has a wealth of information for researching your project as well as the installation. We provide step-by-step install videos as well as installation tips and tricks to help you every step of the way.
How Much Does It Cost?
Of course, this is the question that everyone asks and our Econodek team has an easy answer. All you have to do is visit our free quick quote page and enter the dimensions of your deck in our online deck calculator. It will give you a recommended materials list to do your Econodek install as well as a total materials price. If your deck dimensions are a little more complicated or if you want to deal with an Econodek professional directly we would love to hear from you. You can visit our Econodek contact us page or call us toll free at 1-877-860-9333 and a team member will respond to you between Monday to Friday from 8 am to 4 pm PST.
Under Deck Waterproofing
Under deck waterproofing is easy to do when you use the Econodek vinyl deck system. So stop maintaining your deck, and start taking advantage of the space beneath it. Econodek is a great investment that will last a very long time to waterproof and protect your outdoor space. If you have any questions at any time about our Econodek deck system just let us know. With over 30 years of waterproofing experience our Econodek team is always ready to help.